Eerie.
Recently i've been reading a lot.. Err, not exactly reading, rather listening or both (thanks to ibooks). I've grown really really fond of audiobooks. Very convenient specially if you don't have the eyes too sturdy as the addiction to read. I am specifically fond of those recorded by Penguin Audio or Listening Library or McMillan Audio. They have really really good readers. Hmm had i mentioned I'm into novel series? I can stand listening all day and still hope i can do so in my sleep specially if I'm so into the climax already. Back when i read, books or eBooks or PDF,My eyes just always gives up on me.
Best Vampire Series I've read and listened according to MY OWN CHOICE.
1. Vampire Academy series by Richelle Mead.I love the plot, the twists, the romance, the characters of the protagonists. Above all i love Adrian Ivashkov. Well you know how someone broken and mistakenly evil can love so much so purely and unselfishly? Well Vampire academy series ended on the 5th book as Rose Hathaway the female lead character succesfully put everything back into place or better. Her love life has bloomed after getting Dmitri back from darkness. Getting her bestfriend Lissa into the throne she rightfully own, and earned the respect of the people around her which was an impossibility during the first book.Sad that this has ended but I am just as happy that the handsome Adrian Ivashkov is in the 1st Book of my next favorite.
2. Bloodlines series by Richelle Mead. Currently on the first book, is a story about Alchemists, humans that are specialized in studying ancient relationships between vampires, dhampirs and humans. They are acting as damage control organization fixing everything up so humans would not be aware about such existence and will not create panic. The story is evolving on a lead character that has appeared in Vampire Academy Books, Sydney Sage as she struggle to proving herself worthy of the title Alchemist. It is known that she has comprised her credibility when she was involved in vampire politics helping Rose Hathaway escape from Prison. As it appears, Adrian Ivashkow may possibly be paired with her in the future books. Well at least that's what i'm hoping for. Adrian Ivashkov seems too hot be left dumped with a broken heart.
3. Twilight series by Stephanie Myers.Perhaps the most popular vampire series in the present generation. Is a story about two beings of different worlds, a vampire and an ordinary human fell in love and went an extra mile to be together, get married and miraculously produce a child. Their efforts to protect each other including the man , Edward Cullen, moving away to save and let the girl Bella Swan enjoy a life out of Danger.A few action during book 1 on the fight between James and Edward, love triangle on Book 2 as Bella discovered the true identity of her besfried Jacob, the struggle toprotecteach other from the avenging Victoria on book3, and the story on kinship, bravery asthe Cullen family muster their friends possibly the biggest vampire gathering in hundred years to attest on the authenticity of the miracle child being Renesmee against the possible massacre from Vulturi,which of course Alice has seen in one of her visions. Well just like a typical kids book, the ending was rather happy, or too good to be true. Vampire characters.. Hellow, someone big is gotta die one way or another, but not in this book sorry.
4. Sookie Stackhouse aka Southern Vampire Series by Charlaine Harris. Oh Sookie..As popularized by the tv Series True Blood, this novels about the title bearer herself, Sookie, a barmaid in Bon Temps LA go about her experiences as a human and a fairy, tangled in love with 2 vampires, Eric Northman and Bill Compton and a Shape shifter Sam Merlott. This series involved a wide range of supernatural creatures, fairies, shape shifters, werewolves, werepanthers,vampires, ghosts, witches and necromancers, demons etc. Story is evolving in a lot of areas, romance, politics, betrayal, family, friendship etc. Has 11 Books in total. As mentioned beforehand, Sookie Stackhouse series is shown on TV as True Blood under the direction of Allan Ball, however there are so many differences in the characters, the plot however is the same or slightly changed. Well the tv series is on going so lets just wait what Allan Ball offers us. By the way im for Team Eric!(Hurray hurray)
5. Queen Betsy aka Undead Series by Mary Janice Davidson. Elizabeth Taylor aka Betsy was proclaimed Vampire Queen after rising from the dead on a pink knock off flats. Currently on its 9th book, going 10th come June 2012 (Undead and Unstable). Is a hilarious novel being Book 8 as my most favorite. Great plot with only limited characters, if you are a designer shoes buff, you will love this novel, and if you are not, you have to read it to realize in the end, that having a designer pair of shoes is just one time pain in the pocket but a great addition to your personality. You will love the Bitchy but true nature of Betsy, she's a snob, sometimes she's mean but in the end, she's still nice.At least she's not so very fond of drinking blood from humans, she loves her friends and family. The tone is more adult than expected. Sexual pleasures are iminent on almost all books, i guess vampires like making out.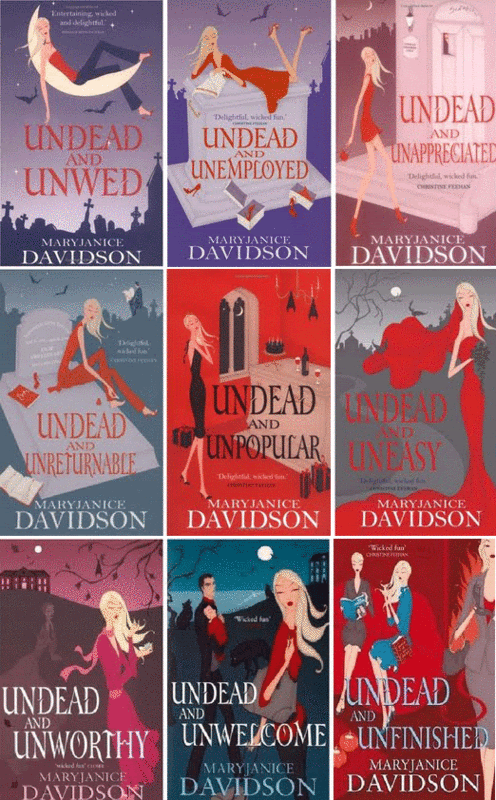 6. House of Night Series by PC Cast and Kristin Cast. Yeah right, i was thinking the same. Its just not so vampire sounding at all. House of Night really exists but the authors just derived the name of the books from a certain bldg and made the story on top of what was really present and existent (just like how dan brown's da vinci code was accurately plotted in real life places and structures). I think that style is great too, they give readers a more solid imagination. House of night series is lead by a girl, Zoey RedBird who was marked to become a fledgeling. Fledgelings are grown into vampires after their transformation, they are nortured and taught at the House of Night. The story is about her, and her struggles being the Chosen, most gifted fledgeling in the history, She has an affinity for all 5 elements, her body is intricately marked with tattoos no one has been marked much before. The series is revolving at the words given to her by the vampire Goddess "Darkness does not always equate to evil, just as light does not always bring good"
The List Goes on ..Continued ..