Its better late then never. Its a sunday today and i decided to make most outof the last few hours of me being on "Rest" mode. Decorating the house is one of my Christmas Tradition. I normally spend quite an amount for my decoration, but i've grown practical to i just reuse the
old one from last Christmas.
Color Coded. I love a color coded or themed Christmas decoration. Unlike before, Christmas colors are normally red, green or so until abt 10 yrs ago, silver came in, then blue, then some metallic chrome, mixed with all hues of metallic nature, nowadays, Christmas decorations vary from colors, settings, texture or tone, so experimenting different color combinations is quite fun.
This year my mom opted out for the Christmas tree. The living room was too small, putting up one with all the ornaments would occupy too much space, thus moving around would be uncomfortable. But the thought of Christmas without a tree isjust too dull for me so instead of putting up the whole tree, i just took the uppermost portion of the tree and stick it in a vase. Put on some rice bulbs, a few ornaments that are neither too big nor native and now Now i have a table top Christmas Tree.'
Since space is a big factor, just like last yr, hanging lanterns was a good option. So i just tried variety of balls intoa string, put on some poinsettias, ribbons etc.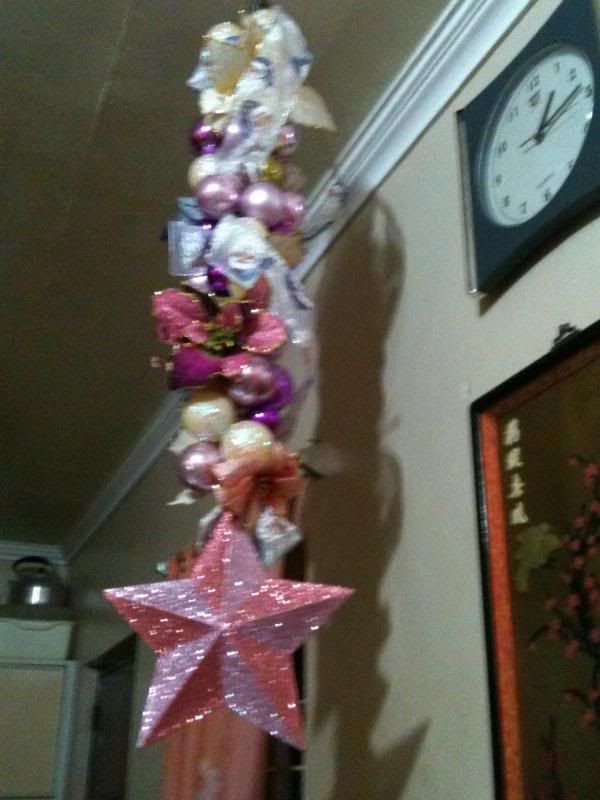 I also replace the plastic flowers with various colors of poinsettias, so i have another piece aside from my table top tree. Unlike the previous Christmasses (decorations), this year will be the most simple arrangement i had, but it don't matter is it. I am home, that what matters now.
The outside of my home is also adorned with a few Christmas lights, my father hung them from the tree in front of the house, a few also in the garage. My mother put star lanterns near the gates.